Instructions for individuals who have tested positive for COVID-19 or have symptoms of COVID-19
If your symptoms worsen, seek advice from your health care provider, a clinical assessment centre or Health811.
Click image to view flow chart in full screen - PDF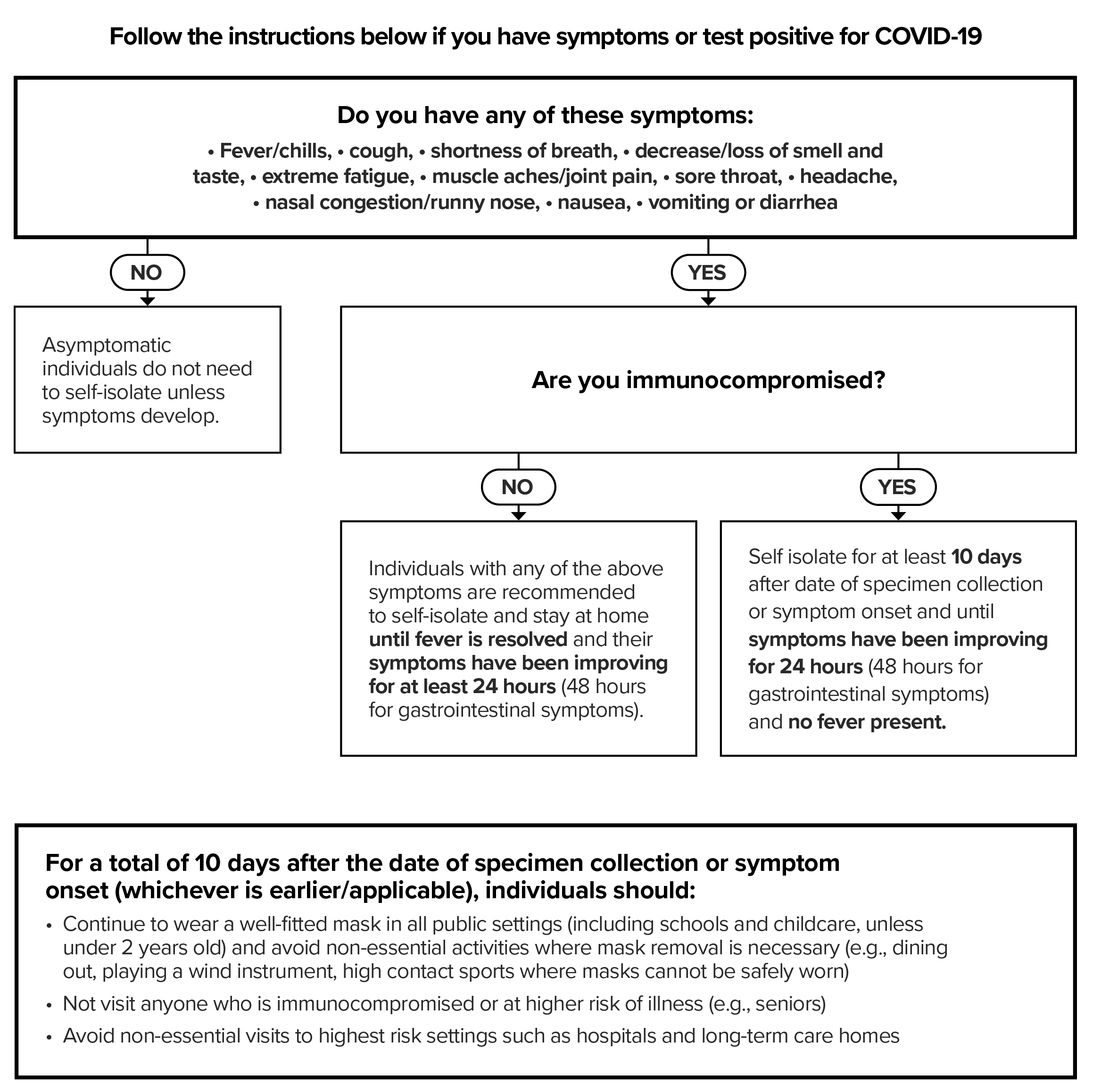 Instructions for close contacts
If you have been identified as a close contact of someone who tested positive for COVID-19 or someone with COVID-19 symptoms, for 10 days after last exposure you should:
Self-monitor for symptoms. Self-isolate immediately if you develop any symptoms and seek testing if eligible.
Wear a well fitted mask in all public settings.
Avoid non-essential visits to anyone who is immunocompromised or at higher risk of illness (e.g. seniors).
Avoid non-essential visits to highest risk settings such as hospitals and long-term care homes.
Report your exposure to your workplace and follow any workplace policies.
Employees working in high risk settings who have had a COVID-19 exposure should speak with their employer to report their exposures and follow their workplace guidance for return to work.
High risk settings workplaces and provincial guidance can be found in the Ontario Ministry of Health's Management of Cases and Contacts of COVID-19.
Who is considered a close contact?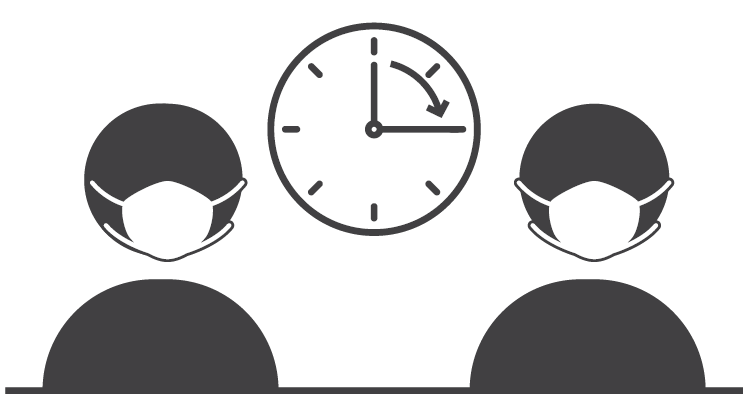 You were within 2 metres (6 feet) for 15 minutes or more.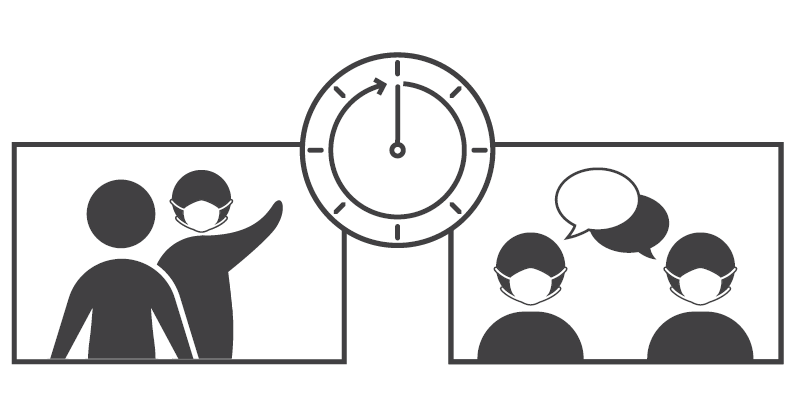 You had multiple close encounters with someone over a 24-hour period (even if it was less than 15 minutes).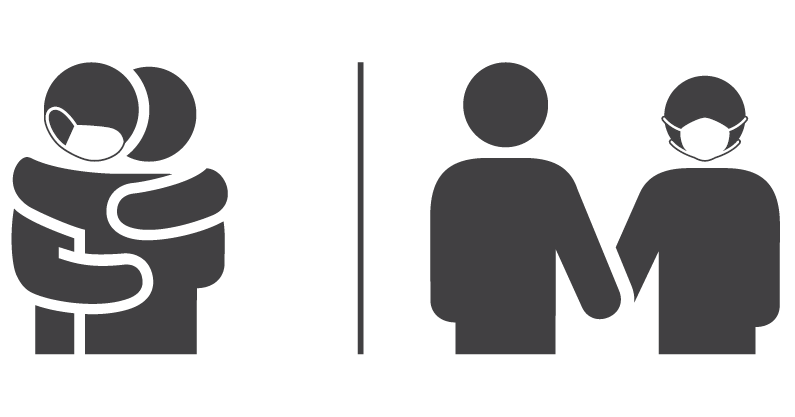 You had close physical contact with the person, such as a hug or handshake.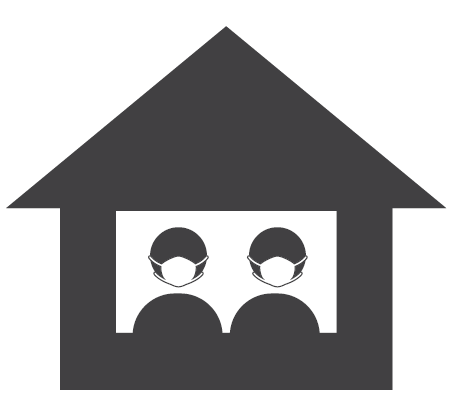 You live or care for someone in the same home.
---
Who is considered a close contact at work?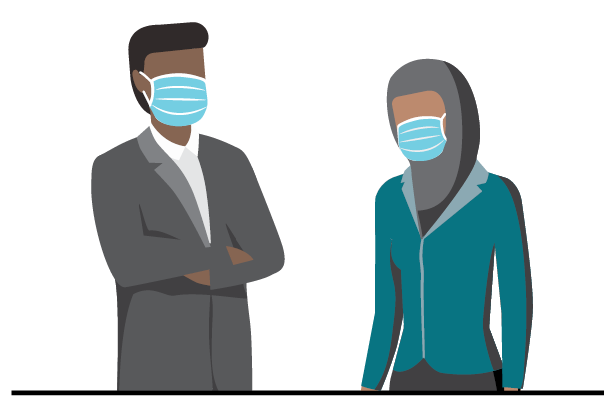 You were within a 2 metre (6 feet) distance for a total of 15 minutes or more throughout the day, even if you were both wearing a mask.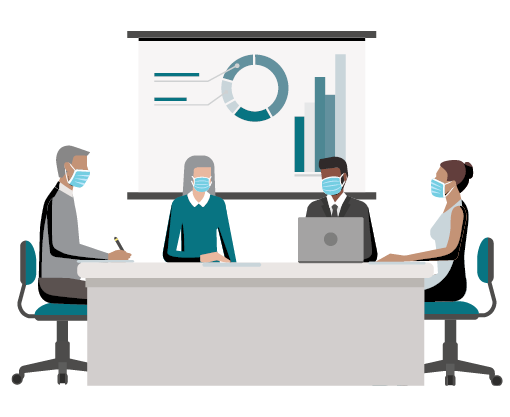 You attended the same meeting in a closed space.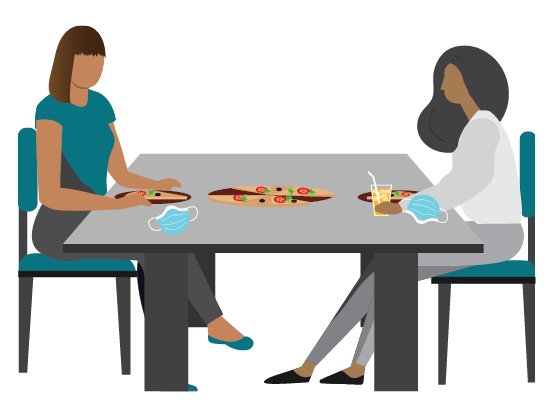 You went for lunch breaks or socialized with a person.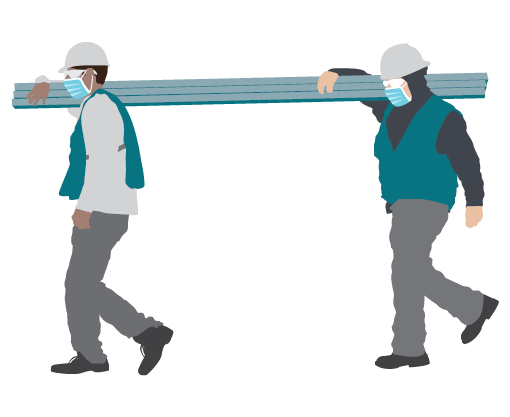 A person who works within close proximity to you.
What does stay home mean?
Do not attend work, school, child care or other public places.
Only leave home if there is a medical emergency.
Do not allow visitors into the home.
When at home:

Try to stay in separate rooms from other household members, using separate bathroom. If not possible it is encouraged to wear a well-fitting mask.
You may leave your home for independent (or caregiver assisted) outdoor exercise while maintaining physical distance six feet from others.

Reschedule non-essential medical appointments. Call your health care provider to tell them you have symptoms before going to essential medical appointments.
Avoid contact with other household members
Minimize the amount of time with other family members. If you can, have someone else care for your children while you self-isolate.
Avoid sharing common spaces at the same time, such as kitchens or living rooms.
It is especially important to avoid contact with household members who are at greater risk of developing severe disease (e.g., older adults or people with chronic medical conditions).
If you have to be in a room with others, wear a face covering and stay 2 metres away.
Keep shared spaces well ventilated.
Clean and disinfect shared surfaces every time they are used.
If possible, use a separate bedroom and bathroom from others in the home.
Wash your hands frequently.