Infectious disease guidance for health care providers
Anaplasmosis
Anaplasmosis, also known as human granulocytic anaplasmosis (HGA), is a disease caused by the bacterium Anaplasma phagocytophilum. It is transmitted to humans by the blacklegged tick.
Based on recent tick-related surveillance and disease data, there is an emerging risk of anaplasmosis infection in the KFL&A area.
Maintain a high level of clinical suspicion for anaplasmosis and other tickborne diseases in cases of non-specific febrile illness of unknown origin, particularly during spring and summer months when ticks are most active. Early recognition and presumptive treatment are important to prevent severe illness.
Symptoms
Anaplasmosis typically causes an acute febrile illness.
Most people will have mild or moderate illness, though severe illness and death are possible.
Signs and symptoms typically begin within five to 14 days after the bite of an infected tick.
Early illness
Signs and symptoms commonly seen in the first few days of illness (days one to five) include:
Fever, chills, rigors.
Severe headache.
Malaise.
Myalgia.
Gastrointestinal symptoms (nausea, vomiting, diarrhea, anorexia) in about 20 percent of cases.
Late illness
If treatment is delayed and anaplasmosis is allowed to continue, the disease may become severe.
Severe illness is rare, but may involve:
Renal or respiratory failure.
Peripheral neuropathies.
Disseminated intravascular coagulation (DIC)-like coagulopathies.
Rhabdomyolysis.
Hemorrhage.
Rarely reported symptoms
Rash (occurs in less than 10 percent of cases) in patients with anaplasmosis. The presence of a rash might indicate a co-infection with Lyme disease.
Nervous system involvement (e.g., meningoencephalitis, focal paralysis, etc.).
Clinical course
Progression of the disease varies greatly from person to person. Patients who are treated early may recover quickly, with outpatient treatment with oral antibiotics. Those who experience a more severe course might require intravenous antibiotics, prolonged hospitalization, and intensive care.
Risk factors for severe disease include:
Delayed treatment.
Older age.
Immune compromising conditions (e.g., advanced HIV, persons receiving chemotherapy, and other immune suppressing medication).
Testing
Acute and convalescent serology can assist with anaplasmosis diagnosis. The National Microbiology Laboratory also offers PCR testing upon a physician's request.
Healthcare providers should also look at routine blood tests, such as a complete blood cell count and a chemistry panel when making the diagnosis.
General laboratory findings can include mild anemia, thrombocytopenia, leukopenia (characterized by relative and absolute lymphopenia and a left shift), and mild to moderate elevations in hepatic transaminases.
Abnormal laboratory findings can appear in the first week of illness. However, normal laboratory findings do not rule out possible infection.
Treatment
Treatment for suspected anaplasmosis should not be delayed pending results of serology. Treatment is more likely to be effective if started early in the course of the disease.
Doxycycline is the first line treatment for patients of all ages.
Case reporting
Please notify KFL&A Public Health if you have a suspected or confirmed case of anaplasmosis. Report online or call 613-549-1232, ext. 2300.
Resources
Lyme disease
Post-exposure Prophylaxis
The KFL&A area has been identified as a high-risk area for Lyme disease.
Consider post-exposure prophylaxis following blacklegged tick bites when the following conditions are met:
the tick is a blacklegged tick, and
it is fully or partially engorged, or has been attached for 36 or more hours, and
it has been less than or equal to 72 hours since the tick was removed, and
doxycycline is not contraindicated.
Counsel all patients to monitor for the signs and symptoms of early tickborne illness.
Early diagnosis and proper antibiotic treatment of Lyme disease is important for best outcomes.
Treatment and Management
For treatment therapy regimens, please consult the following clinical practice guidelines:
Serological testing
Find testing guidelines on Ontario's Public Health Laboratories website Lyme Disease – Serology, and a downloadable general test requisition.
Note: If European Lyme disease testing is required, provide a travel history and request testing for European Lyme disease. Specimens are sent to the National Microbiology Laboratory for antibody testing.
Interpretation of two-tiered test results:
Note: Diagnostic testing of patients presenting with EM lesions is not recommended due to insensitivity of serologic testing during this acute stage of infection.
Antibodies normally persist in the blood for months or even years after the infection is gone; therefore, serologic testing cannot be used to determine cure or reinfection.
General laboratory findings for Lyme disease include:
Elevated erythrocyte sedimentation rate.
Mildly elevated hepatic transaminases.
Microscopic hematuria or proteinuria.
Reporting
Suspected and confirmed cases of Lyme disease, whether clinically diagnosed or laboratory confirmed, are reportable to KFL&A Public Health under the Health Protection and Promotion Act, using the Clinical Lyme Disease Case Report.
Resources
Patient Resources
Mpox (monkeypox)
Frequently asked questions
Can primary care settings collect specimens for mpox testing?
Yes, primary care settings can collect specimens for mpox testing.
What precautions are required to safely collect specimens?
An AIIR is not required for specimen collection for mpox testing. A single-patient room with the door closed is recommended.
Healthcare workers collecting specimens should wear the following PPE:
Gloves.
Gown.
Eye Protection (e.g., face shields, glasses, or safety goggles).
Fit-tested and seal checked N-95 respirator (or equivalent); preform seal check after donning N95 respirator.
View PHO's IPAC Recommendations in Health Care Settings for more information.
How are specimens collected?
Comprehensive specimen collection guidance can be found on Public Health Ontario's website.
In patients with skin lesions that can be swabbed or have skin lesion material that can be submitted for testing this is the preferred specimen type.
In patients with suspected Mpox virus infection who do not have a skin rash (e.g. a close contact of a case with a febrile illness but no rash) or their skin can't be reliably swabbed (e.g. macular or popular rash only) blood should be submitted along with an NP or throat swab.
How are specimens transported?
Effective June 2, 2022, Transport Canada temporarily reclassified mpox virus as a Category B infectious substance for land transport. Mpox specimens can be transported in the same way as other Category B infectious substances your practice might be sending for testing (e.g. STI testing). In addition to the routine Category B requirement, the outer packaging must be marked, on a contrasting background with "TU 0886", "Temporary Certificate – TU 0886"
For full details on packaging and transporting please view temporary certificate TU 0886: Mpox samples, a temporary certificate pursuant to Subsection 31 (2.10 of the Transportation of Dangerous Goods Act, 1992 from the Government of Canada.
How are confirmed, probable or suspect mpox cases reported to public health?
Confirmed, probable or suspect mpox cases can be reported to public health by completing the Ontario Mpox Reporting Tool for Clinicians and faxing it to KFL&A Public Health. Please note that only page one is required to be completed for reporting. Mpox case definitions can be found on page two of this document.
Mpox antiviral guidance for health care providers
Ontario continues to monitor for cases of mpox and is working collaboratively with health care providers, Public Health Ontario (PHO), and the Public Health Agency of Canada (PHAC) to address health risk(s). New guidance will continue to emerge as new information becomes available and the epidemiology of this situation evolves. MPOX Antiviral Guidance for Health Care Providers provides basic information only. This document is not intended to provide or take the place of medical advice, diagnosis, treatment, or legal advice.
Resources
---
Suspect mpox algorithm for primary care
Complete PHO's Mpox Reporting Tool (page 1 only) and fax to 613-549-0349
Notify suspect mpox patient to isolate until they receive a negative test result or they receive a call from public health

Place patient in a private room with door closed wearing a medical mask (if tolerated)
Don the following PPE: gown, N95, eye protection, gloves

Does the patient have a rash that can be tested? (lesion fluid, crust material, scab, swab of lesion)

Yes
Collect up to 3 skin lesion specimens using a virus culture collection kit: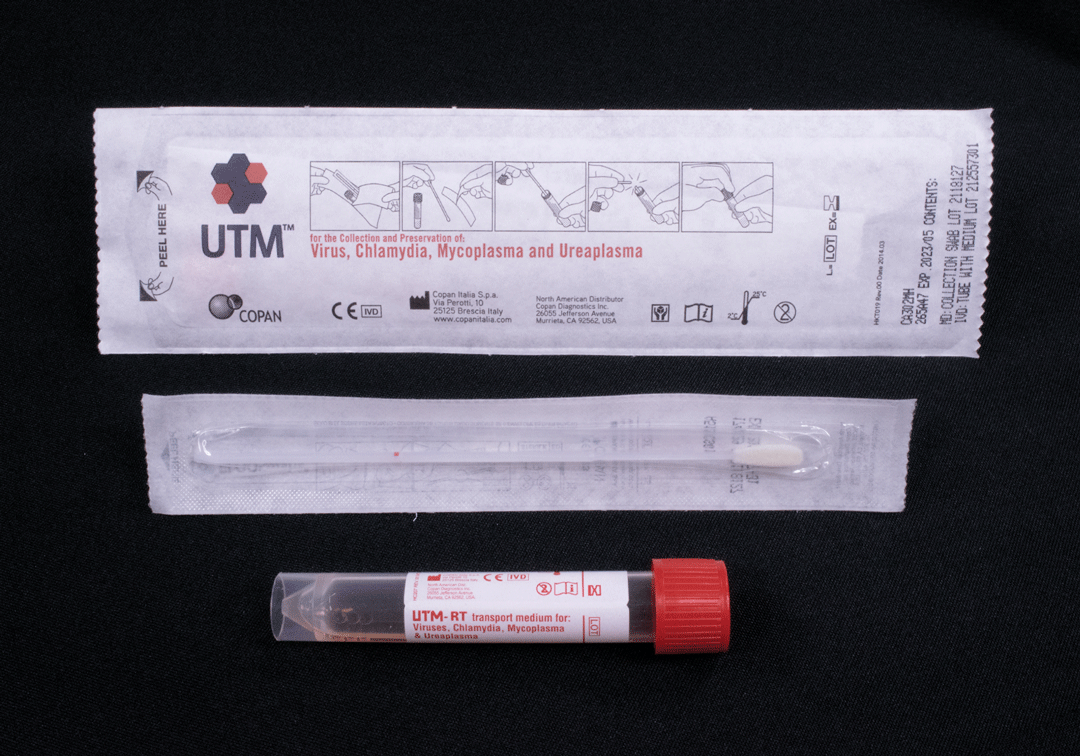 Note: NP/throat/blood samples are NOT needed if the patient has a rash that can be sampled
No
Collect an NP or throat swab using a virus respiratory collection kit:

and
Collect a blood sample using a red topped tube (≥5ml):

Note: difference in swab type (can be used interchangeably if preferred swab not available)

Label specimen tubes: patient full name, date of collection and a unique identifier (DOB or HCN)

Place sample in a biohazard bag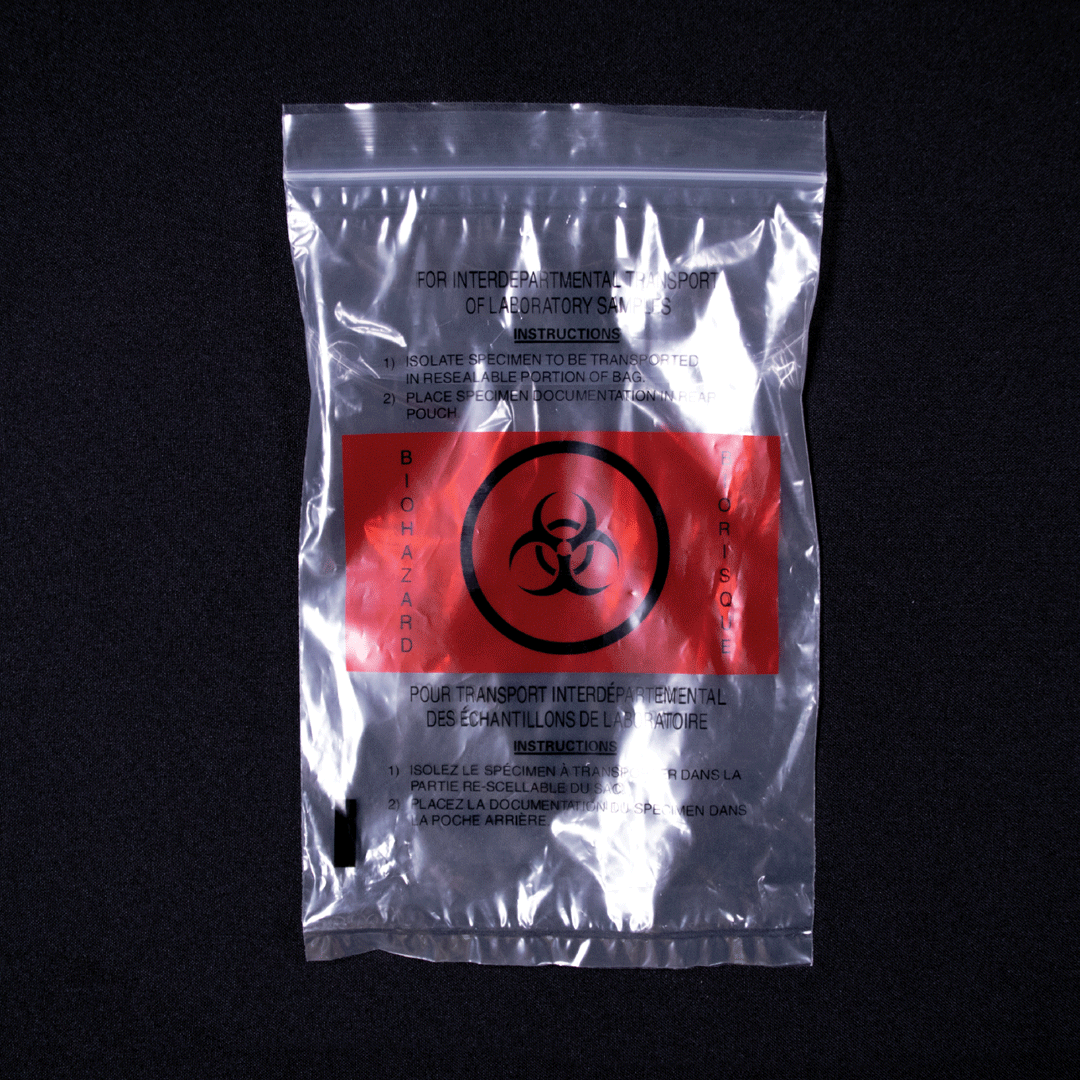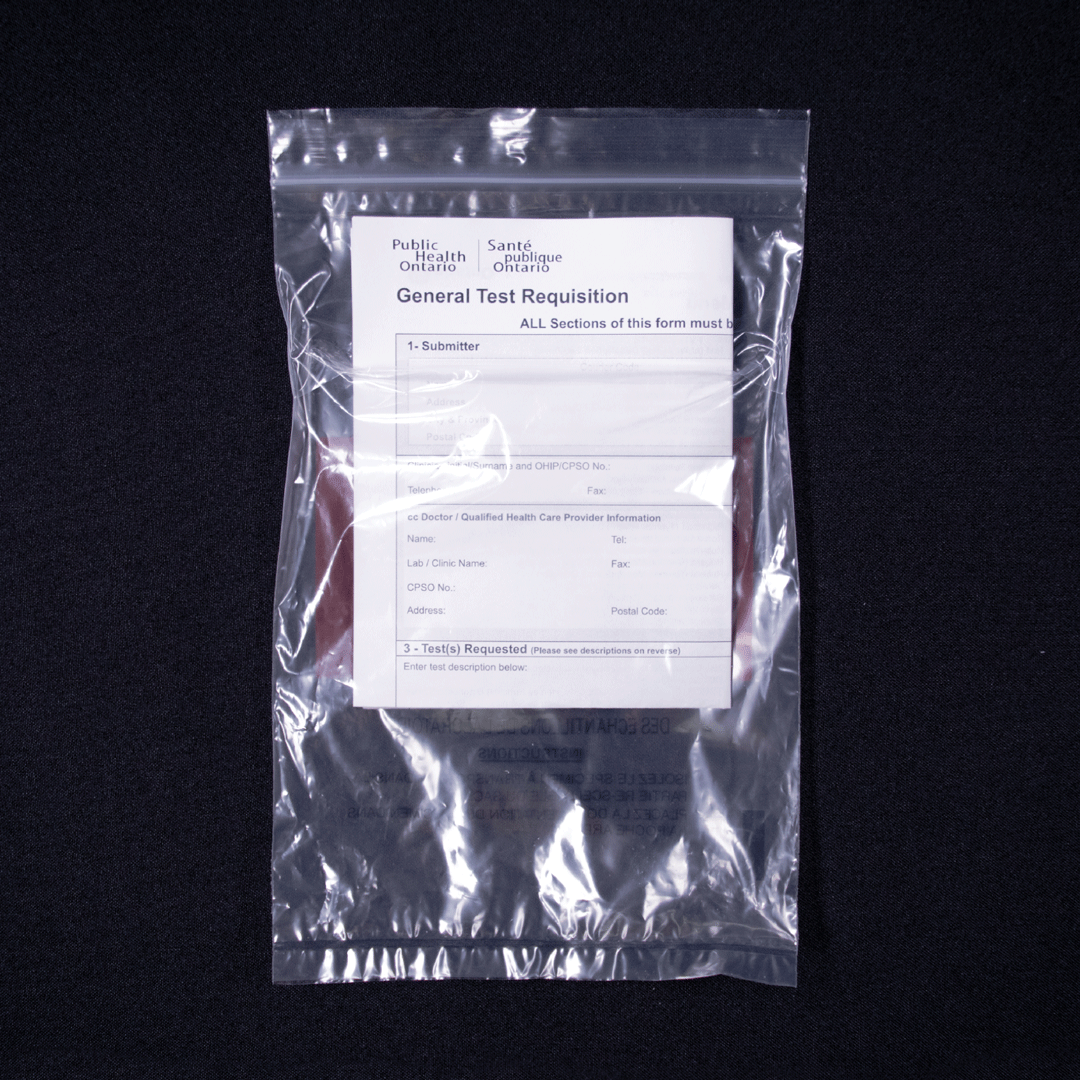 Place specimens for transport in the appropriate transport bag for 'Biological Substance Category B'
Mark the transport bag with label "TU 0886"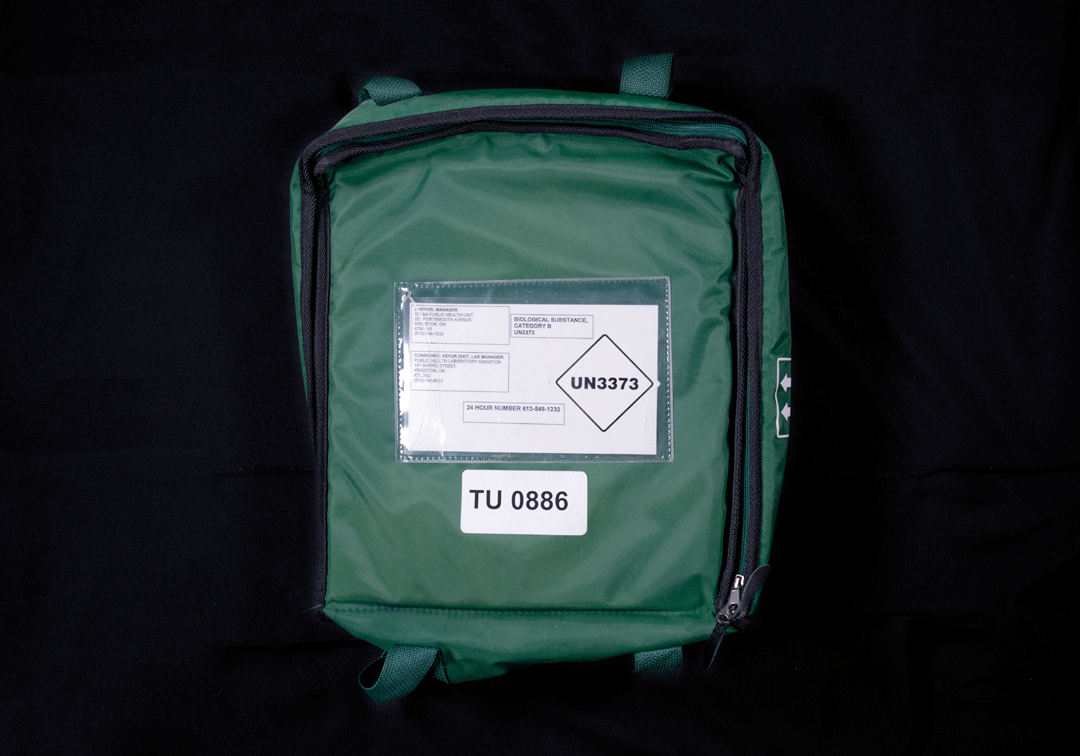 Rabies
Rabies is spread through the saliva of an infected animal via a bite, or if the saliva is introduced into a person's mouth, nose, eyes, open cut, sore or wound.
All potential rabies exposures, animal bites and scratches, must be reported to KFL&A Public Health. A Public Health Inspector will complete an investigation to ensure the victim was not exposed to the rabies virus at the time of the bite or scratch.
Initiation of rabies post-exposure prophylaxis must be reported to KFL&A Public Health.