Health Canada, the Canadian Paediatric Society, the World Health Organization, and many others agree that exclusive breastfeeding (or chestfeeding) for the first six months, and continued for up to two years or longer, (with the introduction of solid foods) is important for infants and toddlers:
nutrition,
immunologic protection (helps your baby stay healthy and avoid getting sick), and
healthy growth and development.
Learn about our free infant feeding clinic, offered by registered nurses and lactation consultants.
Making an informed decision about feeding your baby
It is important to fully understand the difference between breastmilk (human milk) and formula to make the best decision for your family. However you feed your baby, we are here to support you.

It can be difficult to go back to breastfeeding once you start formula feeding.


Breastmilk (human milk)
Breastmilk (human milk) is:
free and safe,
always the right temperature,
available anytime, and
environmentally friendly.
Breastmilk (human milk) helps protect your baby from:
being overweight or obese,
ear infections,
bowel disease,
SIDS (Sudden Infant Death Syndrome),
respiratory infections,
some childhood cancers,
diabetes, and
the effects of toxins in the environment.
Breastfeeding helps prevent:
breast cancer,
diabetes,
ovarian cancer, and
mood disorders.
Infant formula
Will provide your baby with necessary nutrients.

Will not protect your baby from infections and diarrhea.

Requires extra time to properly sterilize equipment.

Costs money.

Does not provide the same nutritional value as breastmilk.

Is not sterile in powdered form.

Is not recommended in the powdered form for babies who are premature, babies who had a low birth weight (less than 2,500 grams or 5.5 pounds) and are under two months of age, and babies who have a weakened immune system.
When to feed your baby

In the first few months, most babies feed at least eight times in a 24 hour period. This does not mean they feed every three hours. Watch for your baby's cues and respond to them. Your baby 's cues will help you know when they are ready to feed, if they need a break, and when they are finished feeding.
When your baby is hungry, they may:
open their mouth,
suck on their hands,
move their head back and forth, or
stretch.
Crying is a late sign of your baby's hunger, and you may find that your baby is more difficult to latch when they are crying. Calm your baby by cuddling, holding them skin-to-skin, rocking, talking, or any other method that works for you.
When your baby is full, they may:
be still and relaxed, or
fall asleep.
Feed your baby as often and for as long as your baby wants, responding to their needs. Watch your baby, not the clock. Night time feeds are normal and important, and will last for many months. Babies often cluster feed in the evening, which means they want to feed often for short periods.
Latching your baby
When latching your baby, make sure you and your baby are both comfortable.
View Global Health Media's video showing how to latch your baby.
Hold your baby close to your body. Bring your baby to your breast or chest - not your breast or chest to the baby.

Support your baby with your hand behind your baby's shoulders, supporting the neck and not the head.

Hold your baby so their nose is near your nipple. As baby's chin touches the skin it will trigger an open-mouth reflex.

When latched well, your baby's chin will be pressed into you, their head will be tipped back, and their nose will not be pressed into you.
Feeding babies formula
Best Start's Infant formula: What you need to know is available in 18 languages. The booklet provides information on:
how to prepare, store, and transport formula,

how to sterilize water and equipment,

when and how to feed your baby according to their cues, and

supplementing a breastfed baby.
For information on how to safely prepare infant formula follow these tips sheets (available in 18 languages). The six tip sheets cover the following topics:
Informed decision making.

Getting ready to make formula.

How to prepare ready-to-feed liquid formula for healthy babies.

How to prepare concentrated liquid formula for healthy babies.

How to prepare powdered formula for healthy babies.

How to bottle feed your baby and transport formula.
Watch Best Start's video on how to Safely Preparing Infant Formula for your Baby.
Know if your baby is getting enough milk
Signs your baby is getting enough milk include:
Your baby feeds at least eight times in 24 hours.
Your baby is sucking strongly, slowly, steadily, and swallowing often.
Your baby has a loud cry and moves actively.
Your baby wakes easily and is alert for feeds.
Your baby comes off looking relaxed and sleepy.
Your breasts (chest) feel softer and after feeding.
Your baby has enough wet and dirty diapers according to their age.
Your baby should be having at least the number of wet and dirty diapers listed in the chart. If there is poop and pee in one diaper, you can count it as both.
Signs your baby is feeding well

Day 1
Day 2
Day 3
Day 4
Day 5 to 3 weeks old

At least:

1 wet diaper

and

1 dark green or black poop

At least:

2 wet diapers

and

1 dark green or black poop

At least:

3 wet diapers

and

3 brown, green, or yellow poops

At least:

4 wet diapers

and

3 brown, green, or yellow poops

At least:

6 heavy pale, or clear wet diapers

and

3 large, soft, yellow or brown poops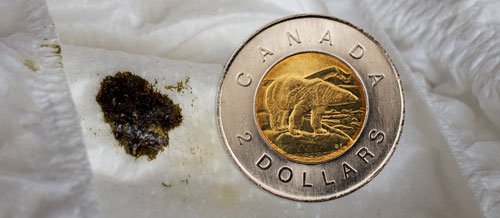 Only count poops that are the size of a toonie, or bigger.
If your baby does not have enough wet and dirty diapers, get help right away.
Get help right away if your baby does not have enough wet and dirty diapers
Get help if your baby:
is feeding less than eight times in 24 hours,
has dark urine,
has fewer wet diapers or stools than in the chart,
is very sleepy and is hard to wake up to feed,
has yellow skin and eyes, and is not feeding well,
has a dry, sticky mouth,
seems unwell, or
develops a fever.
Other signs something is wrong when breastfeeding or chestfeeding:
Your nipples hurt.
Your breasts feel hard and painful.
You feel like you have the flu.
If you need medical help medical contact your healthcare provider, midwife or Health811 (dial 811).
If it is urgent visit:
Breastfeeding and chestfeeding supports
Expressing and storing breastmilk (human milk)
Hand expressing milk allows you to:
Provide baby with a taste of milk to get them interested in feeding.
Soften the breast/chest to help baby the latch.
Lessen the discomfort of overfull breasts.
Help maintain milk supply.
Save your money by not needing to buy a pump.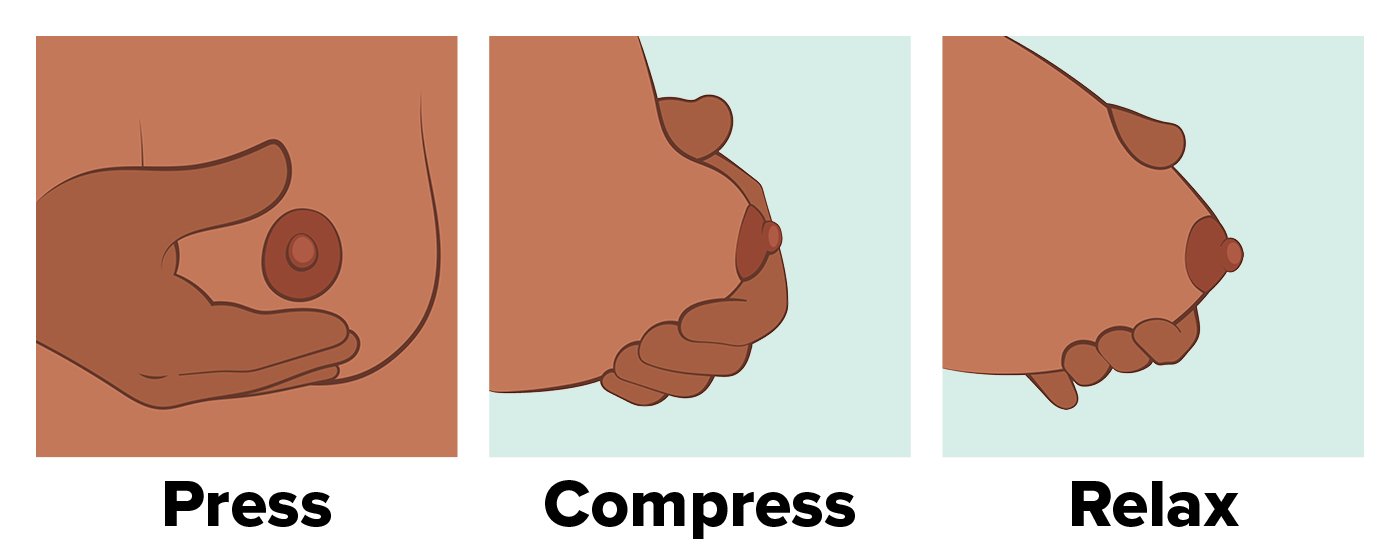 How to express milk:
Wash your hands.
Sit up and lean slightly forward.
Gently massage your breast or chest, or use a warm towel to help get the milk flowing. Seeing or hearing your baby also helps.
Place your fingers and thumb behind the areola in a "C" shape (nipple in the centre).
Press back towards your chest. Gently compress your thumb and fingers together and towards nipple, then release.
Collect drops of milk in a clean cup, spoon, or syringe to feed your baby, or store for later.
Repeat (press back, compress, relax) and move fingers around your breast.
Switch sides and repeat. Continue until milk stops flowing.
It is normal to not get any milk at first. You may only get a few drops to a teaspoon. This is the perfect amount for your new baby's small tummy size in those first few days. The more you hand express, the easier it will become, and the more milk you will get.
View Global Health Media for a video that shows you how to express milk with your hands.
View Stanford Medicine's How to Use Your Hands When You Pump video that demonstrates some ways that pumping mothers can increase production.
Vitamin D supplement
If your baby is fed breastmilk (human milk)
If your baby is getting any amount of breastmilk (human milk), give your baby a vitamin D supplement of 10 µg (400 IU) every day. Keep giving vitamin D until your baby is two years of age.
If your baby is fed formula

Infant formula has vitamin D added so you do not have to give a supplement.
Feeding in public
In Ontario, all pregnant and breastfeeding parents are protected under the Ontario Human Rights code. Part of this code gives breastfeeding, or chestfeeding, parents the right to feed anytime anywhere without being disturbed, asked to stop, move, or cover up. This includes public areas. Services must also be provided free from discrimination.
Taking birth control while breastfeeding or chestfeeding
You can take birth control when breastfeeding or chestfeeding. Talk to your health care provider to choose a method that is right for you.
Breastfeeding itself can be a form of birth control. This method is called Lactational Amenorrhea Method (LAM) and can reduce the chance of pregnancy by 98%, but only if you following statements are current:
Your baby is less than 6 months old.

Your monthly periods have not returned.

Your baby is fully or nearly fully breastfed. Fully breastfed means that your baby gets all food from suckling at the breast. Nearly fully breastfed means that your baby is receiving vitamin D and or one or two mouthfuls once or twice a day of any other fluids or solids.

Your baby breastfeeds at least every four hours during the day and no longer than six hours between feedings at night.
If any of the statements are not current, the chance of pregnancy increases greatly, you will need to use another form of birth control.
The effectiveness of LAM in exclusively pumping mothers may not be equivalent to direct breastfeeding.
Non-hormonal birth control choices
The following birth control choices have no effect on breastfeeding and can generally be started soon after childbirth or the postpartum check-up:
Condoms and spermicides.
Copper Intrauterine Device (I.U.D).
Vasectomy (permanent for male).
Tubal ligation (permanent for female).
Hormonal birth control choices
Hormone-based birth control choices can also be compatible with breastfeeding. Current research suggests that estrogens and progestins in birth control are not harmful to infants, but it is known that estrogen can reduce a woman's milk supply. For this reason, progestin-only birth control is recommended for breastfeeding women starting no sooner than six weeks after childbirth. There have been some reports of low milk supply with some progestin-only choices.
Progestin-only birth control:
Mini pill.
Depo-Provera.
Hormone releasing I.U.D.'s.
Emergency contraceptive (Plan B).
Estrogen and progestin birth control:
Birth control pill.
Birth control patch.
Vaginal contraceptive ring.
Emergency contraception (Ella).
It is wise to begin with a short acting progestin only contraceptive such as the mini pill before beginning a longer acting form such as Depo-Provera as it lasts three months and cannot be reversed once administered.
Sex and U has additional information on birth control options and effectiveness.
Visit the Infant Risk Center's for additional information on Safe Use of Birth Control While Breastfeeding. The Society of Obstetricians and Gynaecologists of Canada also have additional information on Medications and Drugs While Breastfeeding.
Substance use (alcohol, tobacco, cannabis) can be harmful when breastfeeding or chestfeeding
Smoking
Smoking can expose you and your child to harmful chemicals. Smoking can cause your baby to be fussy and can decrease the amount of milk you make. Babies and children are especially vulnerable to the effects of smoke; if you can, try to cut down on smoking or quit. If you or someone else in your home smokes, decrease your baby's exposure to second-hand smoke. Here are a few ideas to consider to reduce the risks:
Feed your baby before you smoke.

Smoke outside.

If you have smoked, wash your hands and change your clothing before holding your baby.

Ask people not to smoke around you and your baby.
Cannabis
No amount of Cannabis (marijuana) has been proven to be safe during pregnancy or breastfeeding or chestfeeding. Stopping all cannabis product use while breastfeeding or chestfeeding is the safest option for your baby.
No matter how cannabis is used, cannabis compounds are stored in body fat and can be passed to your baby through your milk. These chemicals are slowly released over time (up to 30 days) which means that "pumping and dumping" does not work.
Some research reports that babies exposed to cannabis have slower motor development, reduced muscular tone, and poor sucking.
If you consume cannabis and need help to reduce your consumption, or would like help quitting, please speak to your health care provider.
Alcohol
Alcohol passes into your milk. Alcohol is not stored in milk, instead it enters and exits according to your blood alcohol levels. Once alcohol is out of your blood, it will be out of your milk. Generally, it takes two hours for an average woman to clear the alcohol from one standard alcoholic drink.
The safest choice is not to drink any alcohol while breastfeeding.
If you are thinking about drinking alcohol occasionally while breastfeeding or chestfeeding, follow these tips to reduce risks to your baby:
Limit the amount you drink to one to two standard drinks per occasion, with no more than two standard drinks per week.

Measure your drinks to be sure how much you are drinking.

Drink alcohol after feeding, not before.

Before feeding, wait at least two hours after drinking a single serving of alcohol.

Occasional drinking is not a reason to stop breastfeeding or chestfeeding.
Heavy alcohol consumption can put you and your baby at risk by:
Disrupting your baby's sleep patterns.

Decreasing the letdown reflex and the amount of milk being produced.

Affecting your baby's weight gain, growth, and risk of developmental delays.

Making it hard for you to recognize and respond to your baby's needs.
Visit La Leche League International's Drinking alcohol and Breastfeeding webpage for common questions about alcohol and breastfeeding, and recommendations supported by the evidence.